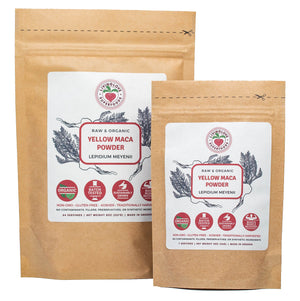 Maca Powder
Sale price Price $16.95 Regular price
Maca (Lepidium meyenii) is a root vegetable in the brassicae family that has been grown at high elevations in the mountains of Peru for over 2,600 years. It is the highest altitude crop in the world and a storehouse of:
Minerals, Vitamins and Fiber, 
Amino Acids, Potassium, Iron and Calcium.
Maca has been traditionally used by the indigenous cultures of Peru as a daily energizing, rejuvenating, and supportive food.
We believe that impeccable ethical sourcing results in a more wholesome product
Our Maca is Certified Organic and is cultivated by family growers living at 14,500 feet in the Andes Mountains. Our providers help harvest alongside the farming communities every year. This relationship allows us access to the first choice of each harvest, resulting in a premier Maca product which we use in our superfood protein powders and now sell separately for you to include in your daily diet any way you choose.